Unisex Baby Gifts created in Newry by Kate's Treasures.
Posted on
Nappy Cakes and Nappy Prams are the perfect Gifts for New Parents!
Some of our customers don't want to wait till the baby is here or they want to give this beautiful gift at a Baby Shower and then they ask for Unisex Colours. These are also the perfect choice if you want to give it to your colleague before she or he is going for Maternity/Paternity Leave. There is plenty of reasons and they do look as pretty as the pink or blue version. Everything from our range of Gifts can be re-used starting with nappies and toys and ending on towels, clothing and blankets.
Here you can see only few of the Nappy Gifts available at Kate's Treasures. You can order taylor made gift via 'contact us' page or just send us email to [email protected]
This 2 Tier Unisex Nappy Cake has a warm feel thanks to the yellow and orange colours added. Cute Nappy Cake with musical toy on the top is a perfect gift for New Parents. Available with Musical Toy (Raff & Ellie) or traditional teddy bear. These two cakes have been created using Pampers Nappies size 3 and given to expecting Mum going for maternity leave. Look at them, aren't they lovely?: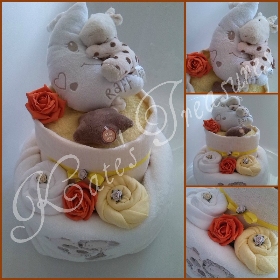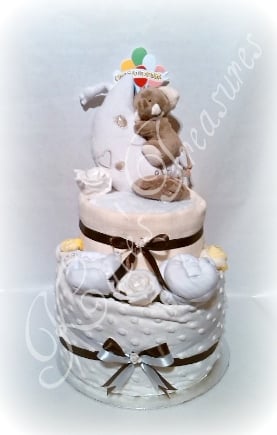 This is a Mini Version of our Baby Gifts: 'Tiny Heart Nappy Cake' in white and beige, this time with yellow decorations. It includes crochet booties and crown for that special little baby. This design is available in blue and pink also.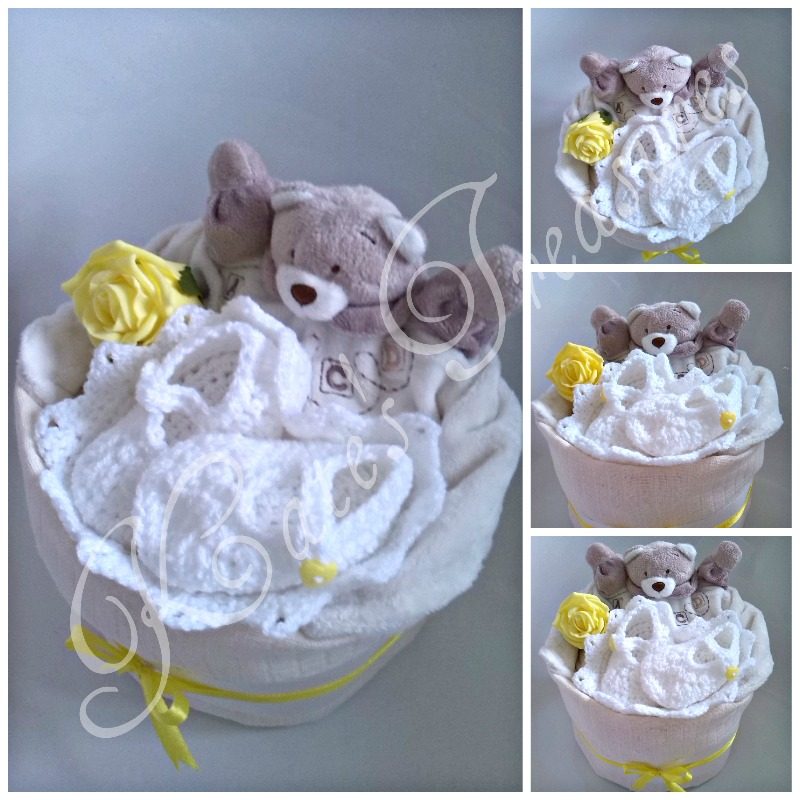 This Nappy Cake is in a shape of a Pram. Nappy Prams are available from our shop also in other colours. Created using only Cream, Beige and Brown 'ingredients' with a bit of 'sunshine' added. Perfect for a Baby Shower or your colleague going for maternity/paternity leave.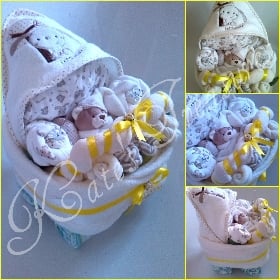 As you can see whatever your choice is we can create it in any size, colour or shape and within your budget, too!
For more of our Gifts feel free to check the 'Gallery' here:
http://www.katestreasures.co.uk/gallery_gifts.html
Don't forget we have a Facebook Page that you can like and share with friends. You can also comment under this post straight
from your Facebook profile.
Thank you for visiting our page, we hope that you will find something to suit your needs.
Kate