Quiet time, back problems and kids.
Posted on
Hello and sorry that I wasn't caring more for my website and the blog but I wasn't well again. As my hubby was going for holiday with our eldest daughter I decided to do things slowly and easy for a change :) You're probably thinking how did it go? Well.... it wasn't as bad as I thought... but wasn't easy at all!
I decided to try to focus on myself (that was before they went for holidays) and it really worked for me! I reduced (to minimum) posting on Fb and Twitter and pushing for sales... it wasn't easy! I missed it a LOT! but I had to do it as my back and leg were in really bad condition :(
I have to tell you now that: less work & social media etc = less stress :) Are you laughing? Is it that obvious? Well I don't remember when I had so much of 'free' time in last few years! I could rest (it wasn't easy or likeable at the start) and I was in bed at 10pm! my back felt better and the pain wasn't that bad so it really did me something good. It was nice to have that break but I missed my 'work' sooo much!!!
Luckily few returning customers had some new additions in families so I could make something for newborns and new parents :)

Then the day came when I was left alone with 2 little rascals, and I was so scared that I won't be able to control them at all... My 'rating' of these 2 amazing weeks? It was great! Kids were (for once) listening to me and doing what I asked them to do. We've had fun feeding ducks and birds, going for a walk or enjoying bus ride :) We've met some lovely new friends too! I never ever thought they will be so good for me and I enjoyed every minute of it - and I miss it now as after 16 days they came back to being normal, little rascals again :D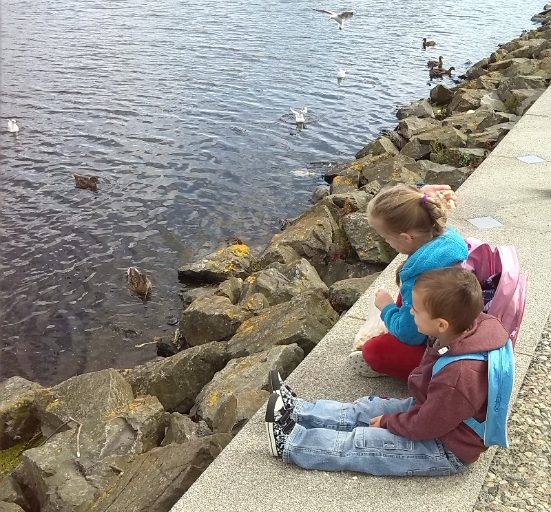 Some of you know that I have back problems (for those that don't know: slipped disc and severe sciatica) I have my operation this weekend so forgive me if I will be absent again... not sure when I will be back online BUT I hope it will be pretty soon. I am really scared now and I know it's my only option so have to do it. I really, really hope it will go well :)
Thank you for all your kind texts, messages and posts on fb and twitter, I really appreciate your support in this difficult for me and my wee family moment.


Well... that's all folks
See you soon
Kate